Image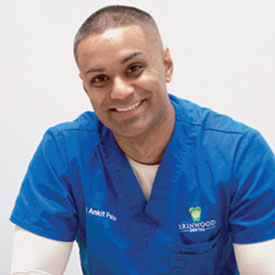 Dr. Ankit Patel General Dentist
Our patients call him Dr. A!
Dr. A was born and raised in Thornhill and attended Vaughan Secondary School. Graduating with honours in 2002, Dr. A went on to achieve his undergraduate degree in biochemistry at Ferris State University, Michigan, where he was consistently on the Dean's list. Awarded early admission to the University of Detroit Mercy School Of Dentistry, Dr. A was among the youngest to graduate at the tender age of 24.
Licensed by the Royal College of Dental Surgeons of Ontario, Dr. A is a member of the Ontario Dental Association, the Canadian Dental Association, and the Academy of General Dentistry. He also completed a 1-year residency focusing on dental implants before he became a dentist in Mississauga.
When not at Erinwood Dental (either our Dundas dental practice or our Eglinton dentist practice), Dr. A spends much of his free time with his friends and family or at the gym. Dr. A loves painting and writing poetry while taking long reflective walks on the beaches before preparing his nightly candlelit dinner from scratch. He also volunteers at a puppy shelter.