Image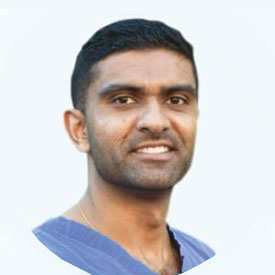 Dr. Kunal Patel General Dentist
Yes, you guessed it… We call him Dr. K!
Dr. K's hometown is the heart of Toronto, but he's lived in many places since graduating from North Albion Collegiate Institute (NACI) in Rexdale. Like Dr. A, he went to Ferris State University for his undergrad (BS, Summa Cum Laude). Dr. K achieved his Doctor of Dental Surgery degree from the University of Illinois at Chicago College of Dentistry in 2009. He was presented with the Dr. John M. Spence Award for outstanding achievement in operative dentistry.
Dr. K lives and breathes nothing but dentistry, but even so, his family comes first. So much so that he even loves to brush their teeth and lecture them on proper flossing techniques. They joke that they would rather he be at the practice! Dr. K is fascinated with cars and enjoys travelling and golfing. And if you love to talk, so does he!
We want you to be completely comfortable with your choice of a dental home, so if you're new to us, Dr. K would love for you to stop by even if you just want to meet him and get familiar with the practice and our team before your first appointment.