Image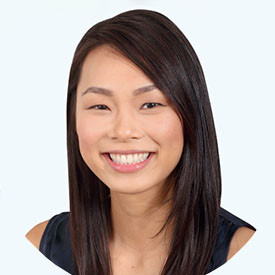 Dr. Dale Lai General Dentist
You can call her Dr. Dale!
Though she grew up a short subway ride from San Francisco, Dr. Dale relocated to the GTA to build a life with her boyfriend Michael, a classmate in dental school – but not before achieving the unexpected. After earning her doctorate, Dr. Dale spent two months on a Naval ship helping to deliver free dental care to the indigenous people of the Polynesian Islands!
At the practice, Dr. Dale loves our positive family environment and being surrounded by a team of like-minded professionals who place their focus on patient-centred care and creating a warm and inviting experience for everyone in your family. She enjoys all aspects of general dentistry – especially creating beautiful smiles with cosmetic treatments. It's important to her to help make you smile – both through her work and by putting you at ease while in her care.
Now making her home in the GTA, Dr. Dale spends her free time volunteering at the local comprehensive free dental clinic and exploring our amazing neighbourhood with Michael and their family dog, Capo, a five-year-old Beagle mix.